Debanjan Mukhopadhyay


Assistant Professor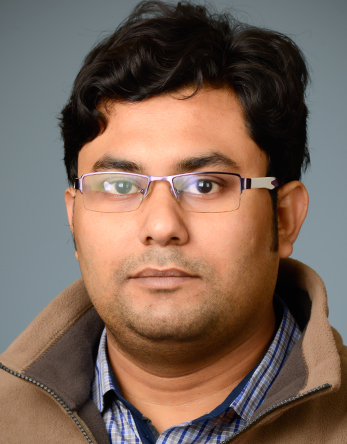 About
-
Host-pathogen interaction and innate immunity lab
Humans are constantly exposed to potential pathogens by breathing, touching, or even during eating and drinking, and yet we stay healthy most of the time. This is largely due to the presence of an innate immune response which is composed of both professional immune cells like macrophages and non-professional cells like fibroblasts. This is a unique paradox that how pathogens evolved to reside within these innate immune cells, a natural predator of most pathogens. However, many intracellular pathogens show cellular tropism for their growth due to cell-intrinsic innate immunity. The innate immune system can be driven genetically or regulated epigenetically on a cell-type basis.
My laboratory will be focussing to elucidate -
i) how different innate immune cells eliminate the intracellular pathogens,
ii) the mechanisms to co-opt these innate immune cells by the pathogens to establish their replicative niche, and
iii) how we can rearm the arsenal of these cells to eliminate the pathogen inside.
My lab will be directed to address these questions using cell type-specific transcriptome analysis, and CRISPR-Cas9-based gene editing to characterize the function of the innate immune genes against intracellular pathogen infection. Furthermore, using the whole genome screening approach, we will search for key pathogen genes that confer fitness against various modes of immune activation inside host cells.
My lab is new at the Institute of Health Sciences, Presidency University. If you are passionate about innate immunity and host-pathogen interaction research you can apply for Ph.D. (having UGC-CSIR/ICMR/DBT fellowship) and write to me at debanjan.ihs@presiuniv.ac.in
Postdoctoral candidates who have their own grants or are willing to apply for a grant should apply with a write-up explaining their area of expertise at debanjan.ihs@presiuniv.ac.in
Qualifications
+
Biography
+
Research / Administrative Experience
+
Teaching / Other Experience
+
Post Graduate Supervision
+
Academic Memberships
+
Publications
+
Address

Presidency University,
86/1 College Street, Kolkata - 700073,
West Bengal, India
About Presidency
Quick Links
How to Find Us
Presidency University
(Main Campus)
86/1 College Street
Kolkata 700073

Presidency University
(2nd Campus)
Plot No. DG/02/02,
Premises No. 14-0358, Action Area-ID
New Town
(Near Biswa Bangla Convention Centre)
Kolkata-700156
Contact details

Presidency University Students Corner