Research
Teaching and Research Areas

Cancer Biology

Dr. Abhik Saha | Dr. Amlan Ghosh | Dr. Sutapa Saha | Dr. Shubhra Majumder

Dr. Nabendu Biswas | Dr. Ranjana Pal

Cell Biology

Dr. Pralay Majumder | Dr. Piyali Mukherjee | Dr. Nabendu Biswas |

Dr. Chandrama Mukherjee | Dr. Abhik Saha | Dr. Aparna Mukhopadhyay |

Dr. Ranjana Pal | Dr. Shubhra Majumder

Developmental Biology

Dr. Pralay Majumder | Dr. Santanu Chakraborty

Endocrinology

Dr. Prabir K Mukhopadhyay | Dr. Kaushik Pramanick | Dr. Shampa Sarkar Biswas

Environmental Biology

Dr. Puja Ray | Dr. Sumit Mandal | Souryadeep Mukherjee

Molecular Biology

Dr. Atreyi Chatterjee | Dr. Sutapa Saha | Dr. Abhik Saha | Dr. Sugopa Sengupta |

Dr. Chandrama Mukherjee | Dr. Shubhra Majumder

Ergonomics

Dr. Devashish Sen

Microbiology

Dr. Aparna Mukhopadhyay | Dr. Mausumi Sikdar | Dr. Adhar Manna |

Souryadeep Mukherjee| Dr. Paramita Chauduri Basu| Dr. Abhik Saha

Neurobiology

Dr. Piyali Mukherjee

Plant Biology

Dr. Malay Das | Dr. Abhijit Dey | Dr. Mark Ganesan | Dr. Sanghamitra Dey

Structural Biology

Dr. Sanghamitra Dey | Dr. Devrani Mitra | Dr. Kalyan Giri
Research Projects
Departmental Research Projects
DBT-BUILDER (2014-15): Rs. ~ 5 Crore
Coordinators: Dr. Abhik Saha & Dr. Piyali Mukherjee
DST-FIST (2015-2020): Rs. ~ 2.25 Crore
Coordinators: Dr. Devrani Mitra & Dr. Santanu Chakraborty
Dept. Higher Education, Science, Technology & Biotechnology, WB Govt. (2018-2020): Rs. ~3.8 Crore
Coordinators: Dr. Malay Das & Dr. Soumendu Chatterjee (Dept. Geography, PU)
Individual Research Projects
Fellowships
Wellcome Trust/DBT IA Intermediate Fellowship: One (Rs. ~ 3.5 Crore; 2014-2020)
Dr. Abhik Saha
DST Ramanujan Fellowship: One (~ 0.9 Crore; 2013-2018)
Dr. Abhik Saha
DBT Ramalingaswami Fellowship: Two (~ 1.8 Crore; 2017-2022)
Dr. Shubhra Majumder | Dr. Chandrama Mukherjee
Intramural
FRPDF scheme (Govt. of West Bengal)
1 lakh/ year for Assistant Professor
2 lakh/ year for Associate Professor
3 lakh/ year for Professor
Extramural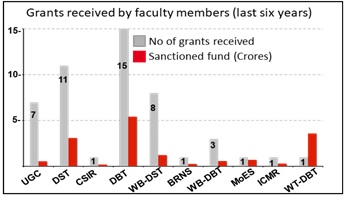 Publications
Selected publications from DLS in 2018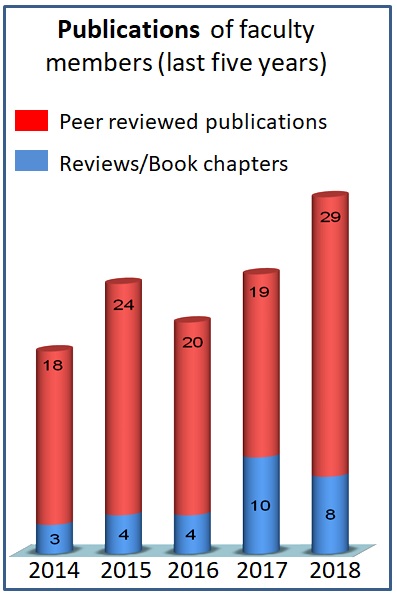 Sen P., …. and Santanu Chakraborty* Indian Journal of Experimental Biology (2018).
Paul T., …. and Nabendu Biswas* Anticancer Drugs (2018).
Sur M, .… and Piyali Mukherjee* Cell Death and Discovery (2018).
Bhattacharjee S., …. and Abhik Saha* Cell Death and Disease (2018).
Chatterjee C.,... & Shampa Sarkar Biswas* International Journal of Engineering, Science and Mathematics (2018).
Dutta S., ... , Devrani Mitra, Pal A, and Malay Das* BMC Genomics (2018).
Guchhait R., …. and Kousik Pramanick* General and Comparative Endocrinology (2018).
Ghosh M., Sumit Mandal*, and Chatterjee M. Ecological Indicators (2018).
Kundu A., … and M. Ganesan* Plant Biology (2018).
Sushilkumar and Puja Ray* Indian Journal of Weed Science (2018).
Bhattacharya R., … and Abhijit Dey* Journal of Biologically Active Products from Nature (2018).
Basu J., … and Amlan Ghosh* Experimental and Clinical Endocrinology & Diabetes (2018).
About Presidency
Quick Links
How to Find Us
Presidency University
(Main Campus)
86/1 College Street
Kolkata 700073

Presidency University
(2nd Campus)
Plot No. DG/02/02,
Premises No. 14-0358, Action Area-ID
New Town
(Near Biswa Bangla Convention Centre)
Kolkata-700156
Contact details

Presidency University Students Corner