Contemporary Ideas, Innovations & Initiatives in Chemical Sciences: -2023 (CI3CS-2023)
Department of Chemistry
Presents
P.C. Ray Memorial International Conference on
"Contemporary Ideas, Innovations & Initiatives in Chemical Sciences: -2023 (CI3CS-2023)"
As part of the celebration of 150 years of the Department of Chemistry, August 23-24, 2023
Supported By
ORGANIZED BY
DEPARTMENT OF CHEMISTRY,
86/1, COLLEGE STREET, PRESIDENCY UNIVERSITY, KOLKATA - 700073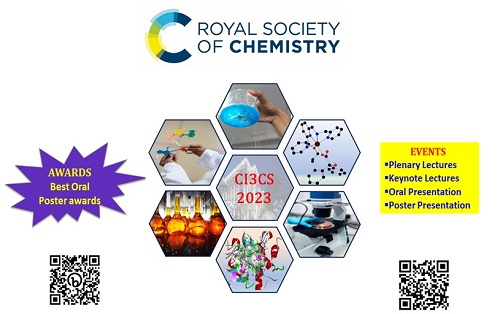 OBJECTIVE
The Department of Chemistry, Presidency University is going to organize a two days International Conference on "Contemporary Ideas, Innovations & Initiatives in Chemical Sciences-2023(CI3CS-2023)" on the occasion of 150 years of the Department of Chemistry , during August 23-24, 2023. The idea behind this conference is to interact, exchange ideas with the eminent chemists from India and abroad from different facets of chemical sciences including interdisciplinary research. This programme is a part of our initiatives to thrive the young minds towards the knowledge-based curriculum for societal welfare. The Conference includes series of lectures, oral/poster presentations.
CALL FOR ABSTRACTS
Original research papers on the above-mentioned topics are invited from participants for Oral/Poster presentations. Participants are requested to send an electronic copy of the abstract (not exceeding 200 words) in the form of a word document file to ci3cs-2023@presiuniv.ac.in on or before 16 th August, 2023. The abstract should contain the title, the author(s) name, affiliation and corresponding author(s) email address. The name of the presenting author should be underlined. The size of the poster should be limited to 3 Ï 4 feet.
REGISTRATION

Participant are required to register online and need to make payment through the online portal

REGISTRATION FEE

Delegates (Industry): Rs. 5000/-

Faculty members/Scientists: Rs. 3000/-

Research Scholars / Post. Doc.: Rs. 2000/-

Students: Rs. 1000/-

IMPORTANT DATES DEADLINES

Abstract submission: 16 August, 2023

Notification of Acceptance: 18 August, 2023

Registration: 20 August, 2023

ACCOMODATION

Limited number of accommodation will be available on twin-sharing basis for out station candidates upon payment (first cum first basis).

ADVERTISEMENT AND SPONSORSHIP

Various advertisement and sponsorship opportunities are available

LINK FOR REGISTRATION:https://forms.gle/WUZ3EffYouSmK3XN7

LINK FOR ONLINE PAYMENT:https://www.onlinesbi.sbi/sbicollect/icollecthome.htm?corpID=469266

Payment Process through SB Collect

1. Open the link in the browser: https://www.onlinesbi.sbi/sbicollect/icollecthome.htm?corpID=469266

2. Choose Payment Category: CI3CS-2023

3. Enter the details and Choose the exact amount from the drop down of the Registration Fees applicable to you as described in notice then click submit and pay accordingly though SB Collect.

Note down the Payment reference number and keep the print out / soft copy of the receipt for future reference.

THRUST AREA:

New Synthetic Approaches, Reagents & Catalysts

Green Chemistry & Environmental Science

Supramolecular Chemistry & Nanochemistry

Polymer Chemistry & Functional Materials

Spectroscopy & Biomolecules

Sensors & Nanodevices

Natural Products & Heterocycles

Drug Design and Drug Delivery

Medicinal Chemistry & Chemical Biology

Coordination & Bio-inorganic Chemistry

Solid-state Chemistry

Electrochemistry

Reaction Dynamics

Theoretical & Computational Chemistry

Renewable Energy & Energy Storage

Surface Chemistry
POSSIBILITY OF SPONSORSHIP OPTIONS
Advertisement at University Premises and Podium
| | |
| --- | --- |
| Position | Cost |
| Main Gate in front of Derozio | 20,000/- |
| Main Stage Banner | 25,000/- |
| Main Stage Side Banner | 10,000/- |
| Gate Banner (6ft*4ft) | 10,000/- |
| Small Banner(4ft*3ft) | 5,000/- |
| Exhibition Stall | 25,000/- |
| Front Cover of abstract book | 15,000/- |
DISTINGUISHED SPEAKERS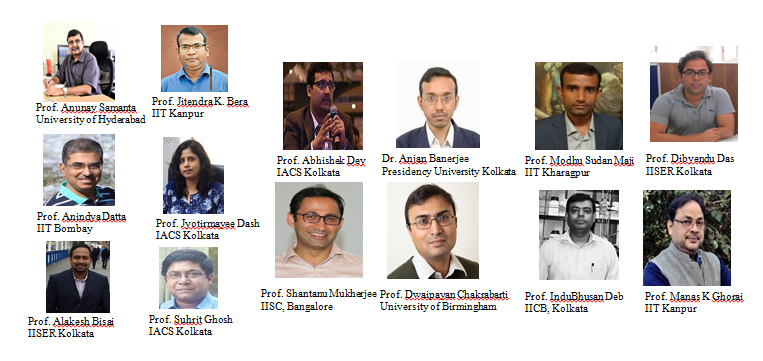 ABOUT DEPARTMENT OF CHEMISTRY
The history of the Department of Chemistry at Presidency University (erstwhile Presidency College) dates back to 1874. Over the years, a number of renowned and illustrious figures have been associated with the department as faculty and as students including Sir Alexander Pedler, Acharya Prafulla Chandra Ray, Upendranath Brahmachari, Priyada Ranjan Ray, Pulin Behari Sarkar, Jogendra Chandra Bardhan etc. Presently, the Department vibrantly performing with 17 permanent faculty members from major branches of chemistry pursuit with cutting edge research along with UG, PG teaching.
ORGANIZING COMMITTEE
PATRON
Registrar, Presidency University
Dean, Dean of Faculty of Natural and Mathematical Sciences
PRESIDENT
Prof. Arnab Halder, HOD, Chemistry
SECRETARY
Prof. Bijan Das
VICE-PRESIDENT
Dr. Dhruba Prosad Chatterjee, Dr. Adity Bose
Dr. Pulak Kumar Ghosh
CONVENORS
Dr. Koena Ghosh, Dr. Soma Saha
COORDINATORS
Dr. Sasikumar Palani, Dr. Anjoy Majhi
TREASURERS
Dr. Debajyoti Pramanik, Dr. Debobrata Sheet
MEMBERS
Dr. Biplab Biswas, Dr. Anjan Banerjee
Dr. Avijit Mondal, Dr. Rimi Roy
Dr. Dibyendu Mallick, Dr. Suman Ray
ADVISORY COMMITTEE
Prof. Uday Maitra, IISc, Bangalore
Prof. Deb Shankar Ray, IACS, Kolkata
Prof. Tanusri Saha-Dasgupta, Director, SNBNCBS, Kolkata
Prof. Samaresh Bhattacharya, Jadavpur University, Kolkata
Prof. Chaitali Mukhopadhyay, Calcutta University, Kolkata
Prof. Swagata Dasgupta, Prof. IIT, Kharagpur
Prof. Debasis Das, Calcutta University, Kolkata
Prof. Nilmani Sarkar, IIT, Kharagpur
Prof. T. K. Paine, IACS, Kolkata
Prof. Ranjit Biswas, SNBNCBS, Kolkata
Prof. S. Nagendran, IIT, Delhi
Prof. V. Baskar, University of Hyderabad, Hyderabad
Dr. R. Natarajan, IICB, Kolkata
Dr. Bishnu Joshi, Agenus, USA
Dr. Hirak Patra, University College London, UK
CORRESPONDENCE
Dr. Koena Ghosh & Dr. Soma Saha
Joint Conveners, CI3CS-2023
Email:ci3cs-2023@presiuniv.ac.in
About Presidency
Quick Links
How to Find Us
Presidency University
(Main Campus)
86/1 College Street
Kolkata 700073

Presidency University
(2nd Campus)
Plot No. DG/02/02,
Premises No. 14-0358, Action Area-ID
New Town
(Near Biswa Bangla Convention Centre)
Kolkata-700156
Contact details

Presidency University Students Corner