Bidyut Mondal


Assistant Professor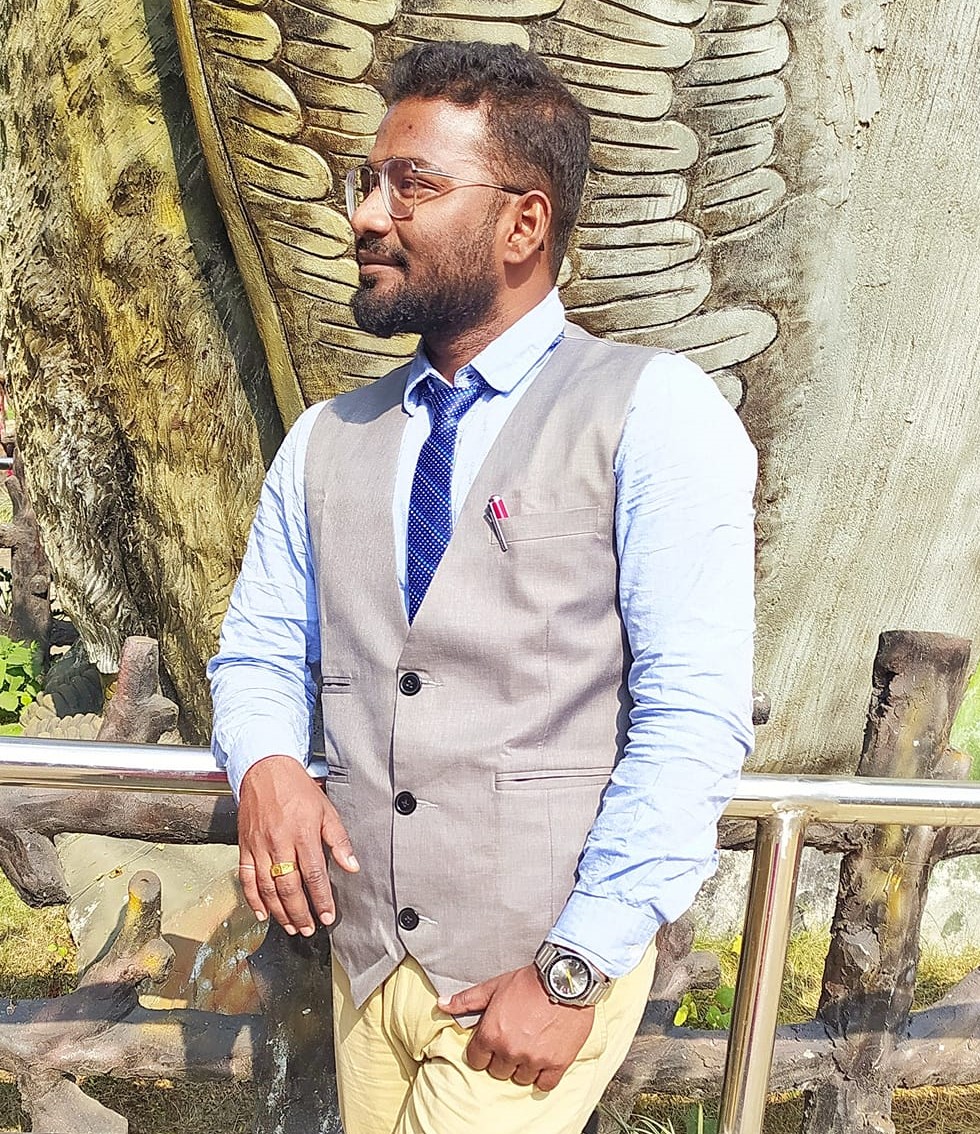 About
-
I'm basically an ordinary person and I do believe "be a philosopher, amidst all your philosophy be still a man". My Primary Education was from Uttar Madhabpur Primary School. Then I went to Madhabpur Jatiya Sikshalaya High School and took my Secondary Education there. After-that, I joined at Tardaha High School where I completed my Higher Secondary Education. Then, I took admission at Jadavpur University (Kolkata) in the Department of Philosophy where I have done my BA, MA, M.PHIL. and continuing PhD. Along with Indian Philosophy and Western Philosophy (both contemporary), I have studied Nyaya- Vaisesika Philosophy and Vedanta deeply and thus still working on these areas.
After completing post graduation form Jadavpur University, I have been selected as an Assistant Professor in Philosophy at Presidency University. Then I have completed my M.Phil. research work from the same university. Basically my interest in philosophy is to find out the main principles of thinking so that I could explain it in a lucid manner. Though, I think about a fact that how many approaches I can, the intention of doing so is to simply the philosophy having being different perspectives and absurdity.
It was something good for me when my M.A. first year was going on I qualified SSC-TET bureau in 2015. Next year, when I was in M.A. final year, I got selected as a JUNIOR RESEARCH FELLOW by UGC-NET bureau. Fortunately, within a year I was also selected as an Assistant Master in Philosophy for English Medium Schools and then my M.Phil. first sem was continuing. It's my strong believe that what I am today because of my MAA and BABA.Even, it is also true that what I have acquired in my life, until today, is the contribution of all my school teachers and all the faculty members and staffs of Jadavpur University, Philosophy Department. I'm grateful to all of them. When I did my Master Degree, Nyaya Philosophy was my special paper. So, in the course work, I decided to work on Nyaya hetvabhasa where I had been tried to expose a new debate (Which is still in Nyaya Sutra and Bhasya) regarding its type. Actually, by the definition of viruddha hetvabhasa, we should have said, there is only one hetvabhasa and that is the only viruddha. Then the question arises why Gautama defines them as five?
Recently, I am working on Vedanta Philosophy, especially on mithyajñana. It is because, to them, everything, except Brhaman, is unreal and even this world is also unreal. So, the question remains if the world is unreal then in what sense they are saying so? Or is there no importance of this world? They explained satt?traividhyav?da in this regard. They said that all that is happening due to our ignorance i.e. avidya. Sometimes it seems to us that avidya and mithya are similar. But is it the claim really so? I am trying to clear that controversial discussion and finding some possible solutions. Apart from that, I would like to unravel the problem regarding 'Appearance' and 'Reality' from core Indian point of views. So my approach is to find out the deep relationship among the Indian Schools and understanding their metaphysics, epistemology and ethics too.
Qualifications
+
Biography
+
Research / Administrative Experience
+
Teaching / Other Experience
+
Post Graduate Supervision
+
Academic Memberships
+
Publications
+
Address

Presidency University,
86/1 College Street, Kolkata - 700073,
West Bengal, India
About Presidency
Quick Links
How to Find Us
Presidency University
(Main Campus)
86/1 College Street
Kolkata 700073

Presidency University
(2nd Campus)
Plot No. DG/02/02,
Premises No. 14-0358, Action Area-ID
New Town
(Near Biswa Bangla Convention Centre)
Kolkata-700156
Contact details

Presidency University Students Corner