Value Added Courses
Title: Rabindrasangeet Appreciation: Many moods, many modes, many melodies(RA)
Advertisement Date: 28th June 2023
Notice for Shortlisted Participants
Course type: Certificate course
Commencement Date and time: 27 th July, 2023. Every Thursday 5.30 pm to 7.30 pm
(Date and Time may be subjected to change)
Duration: 27 th July, 2023 to 7 th December, 2023
Course fees: Rs. 8100/-
Mode of Course: Offline
Eligibility: HS Degree
(Mode of payment would be intimated subsequently to the selected participants)
Course coordinator: Sreemati Mukherjee (Professor): sreemati.dpa@presiuniv.ac.in ; sreemati.mukherjee@gmail.com
Course Objective:
This course seeks to acquaint students with the rich legacy of Tagore's music, its manifold layers, its historical contexts, its musical intricacies and its linguistic richness and how this genre of music truly captures an imaginative blend of the local, national, international and universal. Students would learn about how Tagore carries out a 'dialogue' with the Upanishads, Vaishnavism, Baul cultures, Buddhist and Sufi thought, bringing them all together in short and long lyrics in magical blends of tunes from several traditions. The lyrics plumb the deepest recesses of human experience encompassing many shades and nuances of love, separation, metaphysical anxiety, spiritual quest, tragic isolation, tragic reconciliation as well as the celebration of nature and life.
Modules:
Rabindranath Tagore and his times. The Renaissance of Bengal.
Tagore and the Upanishads, Vaishnav Tattwa (theory), Baul, Sufi and Buddhist philosophies.
Concepts of classical Indian aesthetics like rasa and sahardya (the ideal auditor or audience). Introduction of classical ragas (both Carnatic and Hindustani) used by Tagore.
Rabindrasangeet in practice. Classes will be conducted by eminent Rabindrasangeet artists like Pramita Mallick, Prabuddha Raha, Srikanta Acharya, Sraboni Sen, Prithwidev Bhattacharyya, Sounak Chattopadhyay, Srabana Bhattacharyya and well-known academics like Professor Lakshmisree Banerjee, Prof. Ananda Lal, Dr. Sanghita Sanyal, Dr. Susmita Banerjee, Dr. Saibal Basu and Prof. Sreemati Mukherjee.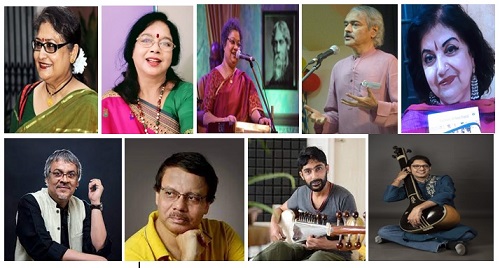 General Note
Kindly fill the form with correct information within 28 th June, 2023 to 16 th July, 2023 midnight, IST.
Once the form is submitted you are not subjected to any further change.
The selection is done on first come and first serve basis, availability of resources and submission of valid application.
Selected participants will be informed about the payment method subsequently via respective email id. On successful submission of Course fees, participants will be notified about their enrollment number and commencement details of the course.
Your classes will be held entirely in Offline Mode.
Yours fees will not be refunded once enrolled.
The application link is below:

Sd/-
Prof. Sreemati Mukherjee
Course coordinator
About Presidency
Quick Links
How to Find Us
Presidency University
(Main Campus)
86/1 College Street
Kolkata 700073

Presidency University
(2nd Campus)
Plot No. DG/02/02,
Premises No. 14-0358, Action Area-ID
New Town
(Near Biswa Bangla Convention Centre)
Kolkata-700156
Contact details

Presidency University Students Corner