Zakir Husain


Professor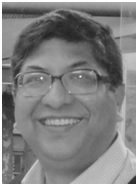 About
-
My schooling took place in La Martiniere for Boys and St. Lawrence High School. After completing my graduation from Presidency College in 1989 with Honours in Economics, I enrolled in Calcutta University in the M.Sc. programme in Economics, where I secured Second position in the Merit list. Subsequently, I completed my Ph.D. from Calcutta University in 2003 in Environmental Economics.
I have been actively engaged in UG teaching (since 1994) and in PG teaching (since 1998). In the last ten years, I have offered courses in Econometrics (Theory and Laboratory), Microeconomics, Advanced Economic Theory, General Equilibrium, Health Economics & Policy, Macroeconomics and Environmental Economics.
I was also actively associated with the public policy domain, serving in the Prime Minister's High Level Committee chaired by Justice Rajinder Sachar, and as a Member of the State Planning Board, West Bengal (2007-2011). In 2012, I prepared a background paper on Social Justice as part of NCAER's exercise to draw up a long term plan (Kerala: Vision 2030) for Kerala. I have also prepared reports for Ministry of Health & Family Welfare, GoI, and Minority Welfare Department, West Bengal.
In research, my focus has been on applying econometric methods to areas like health, gender, education and ageing. The output from this research has been presented in conferences and workshops in Leeds University, UK; Winchester University, UK; Johannes Gutenberg University, Germany; Stockholm University, Sweden; Corvinus University, Hungrary; Xiamen University, China; Wageningen University, The Netherlands; Chulalongkorn University, Bangkok; etc. and published continuously in refereed and indexed international journals.
I am currently working, on (i) applications of GIS methods in context of Covid-19 (ii) impact of lockdown on dietary practices and welfare (funded by IGC) (iii) mental health of adults and youths during Covid-19; and (iv) maternal and child health (funded by IGC).
I am also part of a team comprising of faculty from Queen Mary University of London, AIIMS, London School of Tropical Medicine & Hygiene, and Cambridge University working on risk modelling in breast and ovarian cancer among South Asian women (SURAKSHA), for which we have received funding from Cancer Research UK (CRUK).
My doctoral students are working on intimate partner violence, union dissolution and human development.
B.Sc. (Hons. in Economics) (First Class), Presidency College: 1989
M.Sc. (First Class Second), Calcutta University: 1991
Ph.D., Calcutta University: Title: Attitudes and institutions—Sustaining the commons: 2003
Biography
+
Research / Administrative Experience
+
Teaching / Other Experience
+
Post Graduate Supervision
+
Academic Memberships
+
Publications
+
Address

Presidency University,
86/1 College Street, Kolkata - 700073,
West Bengal, India
About Presidency
Quick Links
How to Find Us
Presidency University
(Main Campus)
86/1 College Street
Kolkata 700073

Presidency University
(2nd Campus)
Plot No. DG/02/02,
Premises No. 14-0358, Action Area-ID
New Town
(Near Biswa Bangla Convention Centre)
Kolkata-700156
Contact details

Presidency University Students Corner