M.S.Vijaya Rao


Assistant Controller of Examination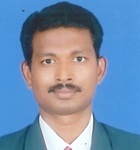 About
-
An educator has a responsibility to provide guidance and share the knowledge to the students. And to become a head of all the faculty members is such a great responsibility, what more if a faculty member becomes the leader of the department/school, such a responsibility. The introduction of the clear standards of leadership promotes the core values and maturity on their role and responsibility. It is true that it's hard to find a perfect leader and guide everyone, including faculty members and students. With proper consulting, mentoring, training and measuring all the responsibilities, a leader cannot be perfect but an effective person who can lead the entire educational institution in better future.
I would like to teach HRM, Marketing Management, Quality Management, Organisational Behaviour, Managerial Economics, etc for both undergraduate and PG students.
Based on my own academic background and my careful study of the current course settings of the University of Madras, MBA department, I would like to design two new courses: a Leadership course and a Communication Skills course. Both of them can be offered to graduate students or PG students.
The first course would cover the various aspects of Leadership, such as the fundamental theories of Leadership, different styles of Leadership, characteristics of leaders, empowerment, Performance Management, etc. In recent years, Performance Management and empowerment has become a special focus in many universities, therefore this topic will be a main focus of this course.
The second course would be important because Communication not only serves as an essential approach to exchange of ideas, thoughts, information, etc, but also lays the principles for modern use of technology in gathering and dissemination of information, which will be useful for negotiation, closing of a sale, Customer interaction, Consumer behaviour, etc.
Qualifications
+
Biography
+
Research / Administrative Experience
+
Teaching / Other Experience
+
Post Graduate Supervision
+
Academic Memberships
+
Publications
+
Address

Presidency University,
86/1 College Street, Kolkata - 700073,
West Bengal, India
About Presidency
Quick Links
How to Find Us
Presidency University
86/1 College Street
Kolkata 700073
Contact details

Presidency University Students Corner